Speech Appliance

West Palm Beach, FL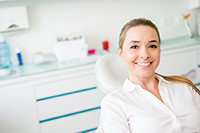 A dental appliance can be personalized and fabricated to meet your specific needs to improve speech. Our team at Roy C. Blake III, DDS, MSD, Maxillofacial Prosthodontist, will design and send your prosthetic requirements for fabrication, we will then fit and adjust the device as needed to improve your speech, function and look. Working together, we can make a difference.

In general, there are three varieties of speech prosthetic appliances that are used to assist with a patient's speech due to an oral defect or trauma to the oral cavity. This includes:


| | |
| --- | --- |
| • | Oral Palatal Obturator:The oral palatal obturator is used to close congenital defects, or following palate surgery, of the hard palate or velum. |
| • | Palatal Lift Prosthesis: Velopharyngeal, known as VP, uses the palatal lift prosthesis for patients with velopharyngeal incompetence, meaning the tissue is not meeting when making sound. |
| • | Speech Bulb Obturator: This prosthesis is used for velopharyngeal (VP) insufficiency, meaning there is insufficient tissue. |

With the placement of a prosthesis and other therapeutic steps such as physical therapy and diet changes, we can help the patient improve their speech.


Palatal Obturator

A palatal obturator is a dental prosthetic device that we use to cover a defect in the palate when the palate is open. This device is used for patients who experience speech problems due to this disorder or if they experience nasal regurgitation. For some patients, this may following surgery or if surgical correction is not part of the plan. A palatal obturator works by closing the space between the nasal cavity and the oral cavity. This can help normalize resonance in speech and improve the patient's ability to balance their sound, less nasally speech when speaking.

A palatal obturator looks like a dental retainer in shape, and for children, it is recommended to wear before the development of speech to help with articulation production.


Palatal Lift Prosthesis

A palatal lift prosthetic is a removable device, again looks similar to a retainer with an extended portion designed to lift tissue on the top of the mouth toward the throat. This design holds the tissue in place, against the posterior pharyngeal wall, to allow for better speech.

The extended portion of this device can be aggravating, or uncomfortable, and we will start with it shorter and gradually increase the length as the patient grows used to the device. With the palatal lift, the tissue is held against the posterior pharyngeal wall which will assist in better speech.


Speech Bulb Obturator

The speech bulb obturator is also a removable retainer looking device that is used for the treatment of VP insufficiency. Unlike the lift, this is when the patient has a short velum relative to the depth of the posterior pharyngeal wall. This will cause an opening during speech. The bulb on this device serves to fill in the open pharyngeal space improving the patient's speech. Closing this opening can also improve the patient's ability to swallow and should eliminate nasal regurgitation.

The bulb can make breathing properly while sleeping difficult and should be removed at night to allow for better breathing.

Call us at (561) 296-3399 to get started on your treatment plan today!